Do you want to know how you can speed up Google's backlinks indexing? 
If Google does not index your backlinks, it means that your links are of low quality.
However, indexing backlinks is critical for improving your SEO strategy—more on this in a moment. In fact, there are several approaches to indexing backlinks in Google so that off-page search engine optimization might produce quicker results (SEO).
To ensure that high-quality backlinks are created for your website to raise your PageRank score, this blog will help you get the most out of your link-building efforts-
Backlinks Indexing - Why It Matters?
The backlinks on your website must be accessible to Googlebot in order for your web pages to show in Google searches. Google spiders will often examine your blog or website in search of fresh information. Additionally, it indexes new, original content that is discovered. For instance, Google Bots will upgrade the page with the most recent information if you have modified an old blog article.
Therefore, since Google relies on bots to crawl your site for any new changes, this component should not be a one-time activity but rather a constant process. The Google spider is practically saying "your material is nice, well done" when it crawls and indexes hyperlinks on your blog. As a result, the search results will show your blog with the help of white hat quality link building services in India.
Is Google Indexing the same as Crawling?
Googlebot will search your website for new web pages as part of the process known as Google crawling. Using Google spiders, Googlebot finds new pages on your website and adds them to the Google index. As a consequence, when you conduct a search on Google, it quickly returns the results after searching for pertinent web pages in its cache that match your query.
The search algorithm makes sure to offer the most relevant sites based on a number of parameters, including inbound links to the page, despite the fact that Google's index contains millions or billions of pieces of material that are identical to each other. As a result, you must force Google to crawl your pages and backlinks if you want to appear in Google SERPs.
Are your Backlinks Indexed On Google? A Step-by-Step Approach
You can follow these easy procedures to see if your backlinks are indexed if you're unsure. Here are four quick steps to check the indexing of your backlink:
Go to Google, paste the URLs you wish to examine into the Google search box, and then click the search button to find out. If the URL is missing from the search results, it means that the connecting page has not yet been indexed.
Here is another way to monitor the status of backlinks that search engines like google have not yet indexed. This method requires you to start the URL with a Google search operator. The formula is - site: pageurl/yourblog.com.
To find out whether pages on your blog or website have been indexed, you may utilize Google Search Console (GSC). However, you must link your website to the Google Search Console in order for GSC to serve your purposes. As a result, the GSC Coverage analysis will provide accurate information about indexed web pages or backlink audits.
To view your data - navigate to Google Search Console >> Index >> Coverage. 
A page won't appear in Google search results or GSC if it is not indexed. View the Google Search Console outcome that displays the site's index backlinks. From the dashboard, you can see that Googlebot didn't come across any pages marked as "Error" or "Valid with a warning." However, 460 "Valid" sites were crawled and indexed by the Google crawler.
Here are the prime four categories:
Error: All pages that stop Google from indexing backlinks may be found in the Error section. The "Error" box prevents websites from showing up in searches.
Valid with a warning: Although Googlebot indexed and crawled these pages, robots.txt prevented them from being displayed.
Valid: Because Google's crawlers did their job, these pages are approved. The site pages have been indexed and may show up in SERPs.
Excluded: Pages that you or Google have decided not to index are included under this category.
Therefore, it indicates what you have worked to do if you have pages in the "Error" and "Valid with warning" windows. However, you are correct as long as your pages are listed in the "Valid" box.
You have a lot of freedom with Google Search Console, including the ability to check the status of your page indexation using the "URL Inspection" feature on GSC. To examine a link or URL, just copy it, select the "URL inspection" option, and then paste the link into the top search box that is available above.
You will see the current state of the page right away. As seen in the screenshot that reads, "URL is on Google," if Google has previously indexed the link, a green and white checkmark will appear. You will notice "URL is not on Google" if, however, it is not indexed.
Tips to Make Google Index your Backlinks Faster
Follow these easy ways to get your backlinks indexed in Google faster than ever: 
1. Check your Index Status
You must "wait and have patience." Is it required? Yes! You should let it unfold organically.
It clearly indicates that Google will eventually index backlinks if they are relevant. Your backlinks will be gradually indexed in Google over the course of five to seven days. Despite this, there are situations when it may take longer. Be patient enough to wait for Google to naturally explore your website and index your links.
2. URLs Submission
Google Search Console submissions via tools such as Google Webmaster Tool are quick ways to index backlinks. If the website that has the backlink is within your control or if you can communicate directly with the website owner who posted the link then simply follow these three easy steps to get your backlinks indexed in Google more quickly:
Visit Google Webmaster Tool first
Type the page's URL that has your link
After that, reply to the captcha or figure it out and press the "Submit Request" button.
Simply put, that is all there is to it. Up to 500 URLs can be submitted each week. 
3. Ping your page URLs 
There are alternative methods to have backlinks indexed if applying to the Google webmaster tool doesn't work for you. The next thing you should do in this situation is to ping your pages' URLs using the backlink indexer. You may use Google backlink indexer software as well as other free and paid backlink indexer programs.
Pinging is the process of notifying Google that you have updated your blog or website or that there is fresh information available. In this manner, Google will dispatch a bot or spider to revisit the website and update it with the most recent data.
Important to Note:
Avoid over pinging your URLs as this will not improve your indexing rate. For instance, your friend would become irritated if you keep asking him the same question over and over again. Here, the same circumstance holds true. The tools essentially serve the same purpose. Decide on one, and it will work.
You must continue utilizing a backlinks indexer program to index your backlinks more quickly. In fact, you must utilize a "backlink indexer" if Google does not index your backlinks for whatever reason after an acceptable amount of time has passed. After some time, Google would eventually index any ordinary link. The answer, in this case, is to utilize Backlinks Indexer to get Google to take action. Although there are several instant link indexers available, it is advised to use Backlinks Indexer since it offers a 100% index rate.
It will allow you to:
Ping each link
Submit your page links to many authority blogs
Provide social signals
Build web 2.0 links
Create permanent backlinks
4. Don't Forget to Rule Social Platforms
Have you ever thought that you can also use social media to have your backlinks indexed? Sharing the links to your pages on social media is crucial since it increases the likelihood that your links will be indexed. As a result, generate social media buzz to grab other users' attention. People will be eager to find out what is causing all the hype. They'll gather in droves to take part in the thrill as a consequence.
To obtain social link juice, share website links. Social proof not only improves index rates but also establishes brand credibility and trustworthiness. However, if you're wondering how to easily share all of your links, it is both doable and simple.
5. Look for Authoritative Websites
Establishing connections on pertinent, high DA websites is another approach to hasten Google's indexing of backlinks. This action will let Google know that the backlinks are legitimate and real. You should be careful about how to build inbound connections, though.
Get connections back to your blog by guest posting on reputable blogs for the best results. However, add your backlinks to your content intelligently rather than at random. The most crucial thing is to include links in excellent blog posts that will draw backlinks or inbound connections from reputable websites.
How to locate quality authority websites on how to get backlinks indexed?
Simply put, research the sources of backlinks that your rivals are using, then get in touch with them. Utilize competitive intelligence tools for competitor research to keep an eye on your rivals and gather crucial campaign data.
You can use tools like:
Backlink Checker
Monitor Backlinks
Agency Analytics
6. Use Web 2.0 Tools
If you use the Backlinks Indexer services, you do not need to complete this step. However, if none of the methods above work, take this next step. But I don't think the links have already been indexed by this point. However, if you are unfamiliar with this term, you could be asking, "What is web 2.0?
Web 2.0s refers to free blogging platforms. You may usually edit URLs, photos, and other crucial content on these networks. It would be beneficial if you thought about using these websites since you will be leveraging their authority and credibility to develop your thought-leadership.
Given this, a small number of relevant, authoritative links will position you well and allow Google crawlers to index your site's backlinks more quickly. However, there are other free blogging platforms you may employ to hasten Google's indexing of the hyperlinks on your blog, such as:
Blogger
Wix
Tumblr
Weebly
WordPress.com, and more
Make an account on each of these websites by going there. They have freedom. Next, create an article between 800 and 1500 words in length and upload it to each website. All of the posts should have backlinks. On average, you can use 8–10 links for each post.
In order to meet that quantity, it is advised you make your essay 800-1500 words long. Google won't consider you a spammer if you do it that way. However, Google will consider 10 backlinks on a 300-word blog article to be spam. Your article must thus be at least eight links long. Nevertheless, make sure the articles are original with no plagiarism.
7. Sitemap Submission
The sitemap for your blog is a list of all the pages on the site. This sitemap database will notify Google whenever your blog is updated. For instance, Sitemap notifies Google when you add new material to your website, such as a blog post, or when you update old information. Additionally, this message tells Google how frequently to scan your website.
In other words, a sitemap helps Google scan and index your web pages, which increases the likelihood that your website will appear higher in search results. Therefore, uploading your Sitemap to Google Search Console (GSC) is the best strategy to accelerate the process of indexing backlinks on your site.
Here are the steps to submit your Sitemap to Google Search Console:
Sign in to the Google search console
Choose your website
From the left sidebar, click on Sitemap
Click on the "Add/Test Sitemap" tab to submit your sitemap URL
Then, click submit
8. Eliminate Crawl Blocks
Undoubtedly, it's possible that a robots.txt file is preventing Google from indexing your web pages or backlinks. When this occurs, Google is unable to crawl and index your website's pages. To have your website crawled and your backlinks indexed, you must solve this issue with help of a technical SEO Services specialist.
To determine if a crawl block is present on a page:
Return to your GSC dashboard, as was mentioned previously.
Launch the tool for URL examination and enter the page URL.
The "Coverage" tab will provide more helpful information.
From here, you can see the "Crawl allowed?" sign. It says "No: blocked by robots.txt."
The aforementioned sentence means that your page is blacklisted in the robots.txt and cannot be crawled or indexed if you see it. You must make it right.
9. Fix No-Follow Internal Links
A hyperlink with the rel="no follow" element is referred to as a no follow the link. Links of this nature prevent Google bots from passing PageRank to the target URL. Why? Google would never follow them, therefore. As a result, they have no bearing whatsoever on the destination URL's search rating.
Google says that they could scan these pages if they are discovered by different methods, such as sitemaps and connections from other websites. Making ensuring that any internal page connections (internal links) on your website that you want Google to index have the following links is the key objective here.
Your backlinks will be indexed more quickly if you do in this manner. Therefore, if you want Google to index your content, delete or disable all no-follow tags.
10. Add Link to an Orphan Page
A web page is considered orphaned when no other blog posts link to it. In other words, it is a standalone web page without an internal connection directing visitors to it. There is no related page; the page stands alone. Google would not notice an orphaned page since it crawls your website to find new information and web pages.
However, how do index backlinks in Google for orphaned pages on your blog?
As per the provider of the best affordable SEO services in India, an audit tool should be used to locate standalone pages. To find such pages, it is advised to utilize the SEMrush site audit tool. From there, you may see all of the pages that aren't referenced by any internal connections.
11. Say NO to All No-Index Tags
Did you know there is an urgent need to remove all no index tags for your backlinks? Do you want to understand why is this required? The ultimate reason is that any hyperlink that appears to contain the no index tag will not be indexed by Google bots. They appear as follows:
<meta name="robots" content="noindex">
<meta name="googlebot" content="noindex">
You can see that the head tag's Meta robot tags include a "noindex" value. Certain pages can be hidden or kept secret with this Meta tag, which prevents people from finding and reading them. Google is instructed not to index the pages by these Meta tags. However, taking them down grants Google spider permission to visit and index the linkages.
How do you locate the backlinks with no-index?
Use your favorite SEO audit tool to speed up the process, similar to the stage above. Use any SEO website audit tool of your choice, including SE Ranking, Ahrefs, SEMrush, and others. For instance, input your command and check for the "No-index page" warning if you're using the Ahrefs Site Audit tool. When you locate it, click to view pages that have
3 Phases of Backlinks Taking Effect
According to the SEO specialist, there are typically three phases for backlinks and the pages they lead to indexing, the "Big Jump," and the "Uphill Climb."
1. Indexing
When Google picks up the backlink-containing page and adds it to its directory, this is known as indexing. When you enter the site: URL of the website and Google present it in the results, you can tell the referring page has been indexed.
A new link takes a few days to be indexed. Results may differ based on the prominence, age, and authority of the website hosting that link. Once the backlink has been found and indexed, it will take some time before anything happens. You have a greater probability of outranking rival pages at an incredible rate if you're fortunate enough to get numerous links at once.
2. The Big Jump
The research also demonstrates that pages in the top 10—where there is fierce competition—barely advance in ranks after 22 weeks with only one backlink. While those at the bottom (second page and below) suffer more, they gain more from a single connection, and after eight to nine weeks, they end up many rankings higher.
This phenomenon, which is referred to as the "Big Jump," makes it simpler to jump from rank 80 to 26 than it is to rise from 6 to 1. The "Big Jump" might be seen as evidence that you are moving in the correct direction. Your page can finally reach the sought-after top page of search results if you are persistent and patient. The road to the top might feel like an "Uphill Climb" since Google's search system is more complicated than ever.
3. The Uphill Climb
According to another study, the top 10 ranking pages are typically 2 to 3 years old.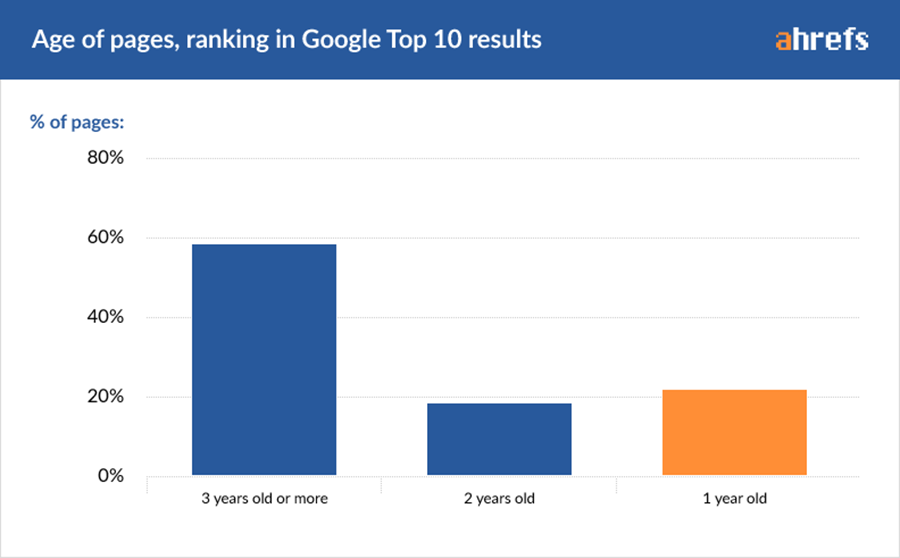 It's interesting to see that some of these pages went from being published to being ranked first in less than a year. But they are the exception, not the rule. 95 percent of all the pages in the research were not displayed at the top within the same time frame. Simply expressed, it could take more than a year for a backlink to push a website to the top of the search results.
Wrapping Up!
As you now know, Google indexes backlinks in a number of ways, allowing you to actually accelerate your SEO by improving the crawling of your earned links and sending the PageRank value for SEO to the specified location. Therefore, it's always advisable to stick with and keep using the strategy you've found to work best for your website for the quickest results.