Traditional marketing methods are simply no longer sufficient. Marketing modes are changing, and they must adapt to the new world. Metaverse marketing allows businesses and brands to reach a global audience. Some of the world's largest brands have already begun integrating and establishing their digital presence in the metaverse.
But what else does it imply? Let's learn everything there is to know about the metaverse in marketing, from the benefits to the challenges that individuals and businesses will face in the future.
What is Metaverse Marketing?
Have you ever wished to travel to a completely different world?
Consider a world in which a version of yourself can go wherever they want and do whatever they want with few to no constraints imposed by the real world. In this world, you can work, meet new people, own things, sell and buy things, be a part of completely new experiences, and enjoy them in ways never before possible.
What if we told you that the biggest tech companies are currently working to make this world your new reality? The metaverse, which was once the stuff of science fiction, is the next big thing!
Is Metaverse The New Digital Marketing Platform?
In the world of digital marketing, metaverse marketing is the next step. Even though many brands have already entered the fray, there will still be many more to go. In fact, the combination of the brand metaverse and digital marketing makes a lot of noise.
Nike purchased the metaverse brand of next-generation sneakers. In 7 minutes, they made $3.1 million. Louis Vuitton is a brand that is heavily involved in metaverse marketing. For their founder's 200th birthday, they released "Louis the Game," a digital game. The brand invited users to join Vivienne in her quest to collect 200 birthday candles while traveling through various worlds.
Mark Zuckerberg introduced Facebook's new brand, i.e., Meta. He intends to turn Facebook into a metaverse company. Given Facebook's marketing power, brands will need to adapt to this shift. It will be necessary to create new digital marketing strategies that incorporate both the metaverse and NFTs.
The metaverse for digital marketing is changing how people interact with each other. In fact, metaverse marketing agencies are sprouting up across all industries.
Why Marketing In The Metaverse - The Biggest Opportunities for Brands?
While technology creates its own universe, brands are unavoidable inhabitants. In fact, the metaverse for brands is a thriving field where you can sow your seeds. Marketing in the metaverse opens up the biggest opportunities for brands as follows:
Increase Your Earnings
The metaverse is a world where everyone wants to live a happy life. They want to have nice homes, wear nice clothes, attend extraordinary events, and brag about their possessions. As a result, make every effort to create virtual products that people want to buy.
Create Strong Bonds
As metaverse is highly interactive, you can establish long-term relationships with your target audience using digital marketing services. They will enjoy participating in your virtual events and playing your games. You can create your own space or be a guest in one that already exists. Branded events and campaigns are already taking place in places such as Roblox.
Campaigns such as games and events provide excellent opportunities to connect brands and customers. Rather than promoting yourself, provide them with an immersive experience. Then you will have more active users who will spend time in your space.
Increase Your Visibility
The metaverse for brands is a popular topic, but it is still relatively new. When you have a slightly exciting idea, your name will be known worldwide. Everyone is talking about the campaigns that are taking place here. You will reach a larger audience even if they are not in the metaverse.
Concentrate on Engagement Marketing
You can welcome potential customers to your virtual store. People find it appealing to shop on eCommerce websites or social media. They'll appreciate a 3D store where they can virtually walk around and interact with other customers.
These shops are displacing physical ones because people can shop from the comfort of their own homes. It's similar to browsing products on Amazon but with a much more realistic experience. They are even welcome to try the products. As a result, you have a better chance of convincing them to buy. As a result, engagement marketing has a lot of potential in this space.
How Metaverse Will Change Marketing?
Like any new medium, the metaverse will present new challenges and opportunities for brands to market themselves. As metaverse brand marketing is still in its early stages, even simple ideas can have a significant impact.
Digital Marketing Challenges in the Metaverse
When a new opportunity arises, early adopters tend to benefit the most. However, as exciting as the metaverse is, there are still numerous risks involved. So it's best to carefully consider your position before diving headfirst into the metaverse.
The following are some of the most significant challenges that marketers face when advertising in the metaverse:
Technology is Still Catching Up:
Virtual reality (VR) and augmented reality (AR) have a long way to go before providing a frictionless customer experience. At this point, investing heavily in metaverse marketing could be a risky bet.
Security Concerns:
As with any new medium, some security concerns in the metaverse could jeopardize your brand.
Measuring ROI:
The traditional methods of measuring and tracking digital marketing campaigns are not always applicable. It may take some time before we can accurately measure the impact of digital marketing in the metaverse.
Find more statistics at
Statista
Digital Marketing Opportunities in the Metaverse
Even though there will be many digital marketing challenges ahead, there will also be many opportunities for brands and digital marketers who are skilled enough to navigate these new waters.
Let's take a look at some of the most exciting metaverse digital marketing opportunities:
Virtual Events:
During the pandemic, attendance at virtual events, conferences, and parties increased dramatically. Virtual events like this are likely to become more common in the future. If your company can organize or host one of these events, it could be a great way to raise brand awareness and generate additional revenue.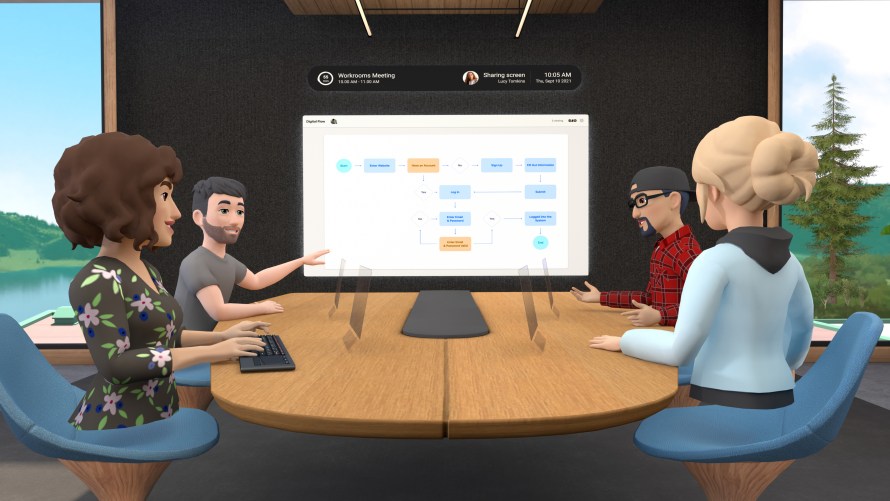 Networking/Influencer Marketing:
Interacting with others in the metaverse is similar to interacting with people in the real world. Consider going to a networking event with your avatar instead of in person. You could even make NFT clothing with your company logo or collaborate with other metaverse celebrities to promote your brand.
Advertising or Sponsoring Metaverse Content:
Similar to real-world events, metaverse events require sponsors. Sponsoring an event in exchange for displaying your logo can be an inexpensive way to test the waters and get your brand in front of a new audience.
The Takeaway:
There are numerous reasons for brands to participate in metaverse marketing by formulating a good metaverse marketing strategy, including the exponentially growing number of users, limitless opportunities for brands, easily applicable ideas (that are not possible in the physical world) and many others. In fact, metaverse marketing will allow you to be bold if you have creative ideas for advertising your brand. You can also hire a digital marketing expert or rely on the best internet marketing agency in India to achieve your ultimate goals. You will be beyond the physical world's limits in this universe, with limitless possibilities. Now is the best time for brainstorming and developing effective campaigns. So when are you doing it?