Every SEO Expert is sure to come across one common question during their professional journey:
"How many SEO keywords should each page have?" or
"Should you strive to utilize numerous keywords on each page or simply one SEO keyword as your target?"
Another vital topic that comes wrapped up around is: "Should you construct whole new web pages for each unique keyword variation?"
If you are also searching for answers to these questions, you have come to the right place! This blog discusses the right quantity of keywords to use for SEO on each page and how to target them in the right order to get the best results.
Why are keywords important for SEO?
Any SEO strategy must choose the appropriate keywords in order to be successful. In reality, SEO will not be feasible without keywords. This is because keywords inform search engines what the content of your website and web pages is. Search engines won't be able to comprehend the background of your website page(s) lacking keywords, and they won't know which search terms to optimize your website for as a result.
Since the invention of the contemporary search engine, keywords have been the cornerstone of algorithms used to rank online pages and have been employed to do so ever since. We'll talk about how many SEO multiple keywords you should target now to know why keywords are so crucial for SEO.
How many SEO keywords should you focus on per page
One primary keyword or key phrase and two to three keyword variants should be targeted by search engine marketers for each unique page. But if there are several permutations of the same phrases, you could be thinking about which keyword to choose as your core keyword.
For instance, there are several permutations of the search word
ads on a car
 including "ads on car
advert on car
advertisement on cars, etc.
So, you will need to conduct some keyword analysis utilizing a tool like SEOptimer's keyword tool or Google's Keyword Planner in order to identify a page's primary keyword. Additionally, don't forget to check keyword volume to ease the ranking of keywords for SEO Google.
In a nutshell, finding the best keywords for SEO with a high search volume yet little competition is crucial. The core topic and keyword that you want to target can be found along with two or three closely related alternatives. 
However, you must remember that pursuing SEO with too many keywords solely on a single page will reduce the likelihood that your website will rank for your core keyword. In addition, even if you're just targeting one core keyword, you'll inevitably rank for a number of different keywords.
So, you must start first by answering the crucial questions in order to determine how many keywords per page your website requires. Let us start:
Step 1: What is your page's key subject?
Consider that you manage an online shop that offers a variety of headwear. In this situation, hats are obviously the topic of your webpage, but what precisely should you label them?
You may get a solid idea by conducting some advanced keyword research using apps like Google Keyword Planner. It will give you a rough idea of how common terms like "baseball caps," "bucket hats," and others are.
Step 2: What are the different varieties/subtopics under that subject?
Assess the many keyword variants once you've chosen the one you wish to use. You might choose from
"men's bucket hats,"
"women's bucket hats,"
"fisherman's hats,"
"Boonie hats," and more in this situation.
All of these goods might be displayed on a single large page, but you can also have a primary page focused on standard bucket hats that directs website visitors to different particular iterations of the product.
Step 3: How can you organize those sub-keywords in the right order?
Finally, it's critical that you arrange the various types on your website such that both people and search engines can understand it. This implies that you must provide more information for each subtype of the term you want to target.
Therefore, visitors should be able to select or be directed to a page that only features "women's bucket hats" from a page labeled "bucket hats." Additionally, it needs to be simpler for them to find a website regarding "cheap bucket hats" or "brand name bucket hats."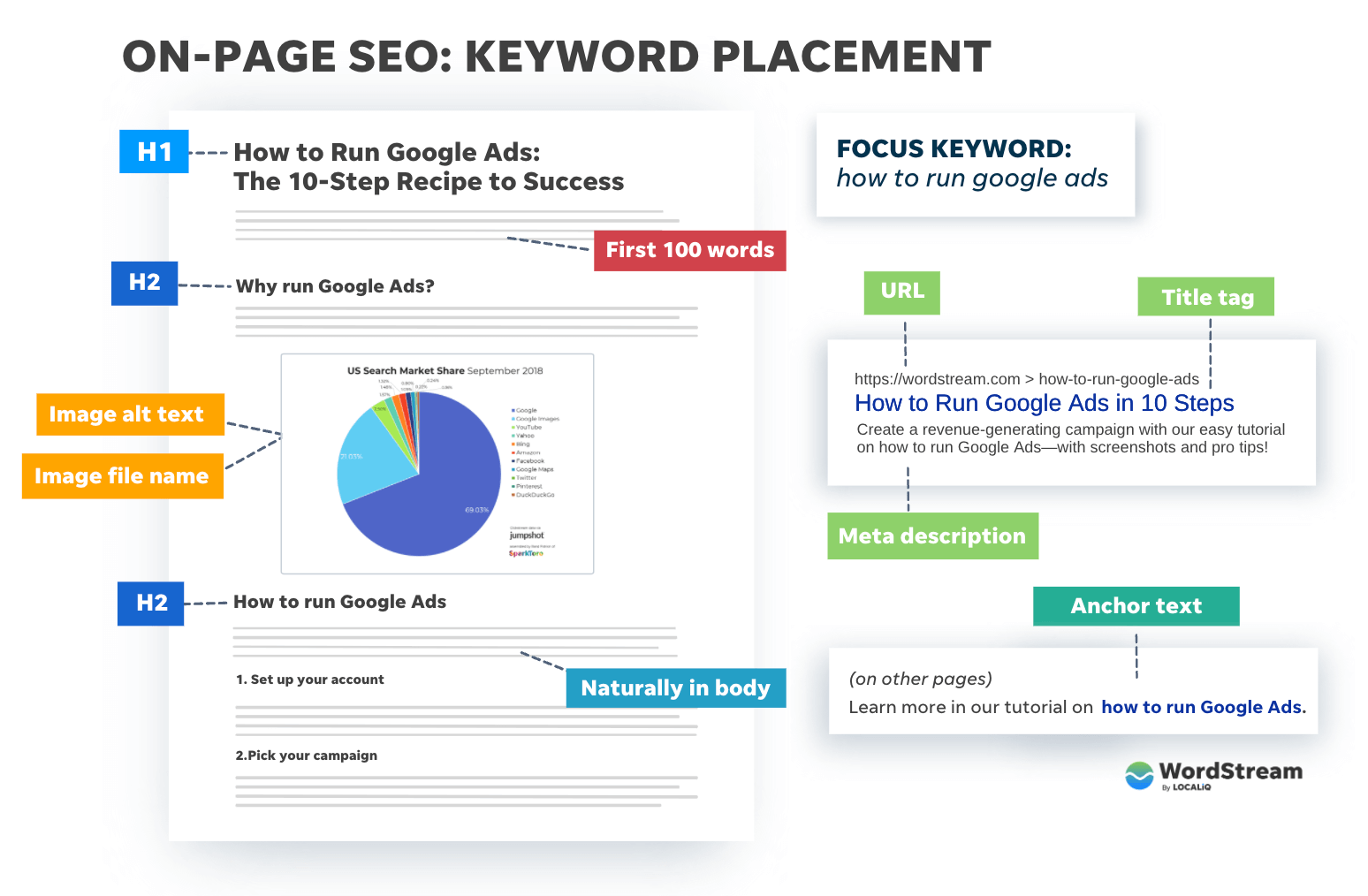 The topic keyword should appear in the content of each of those pages. To attract maximum traffic, try to be as descriptive as you can. The majority of SEO specialists agree that 1-2 percent is the ideal level of keyword density. So, for every 100 words, your main term should occur once or twice. Without you having to worry about keyword stuffing, search engines will grasp the content of the page with that density.
Tips for selecting the right keywords
Pages receive keyword assignments, not sites
You must decide how many keywords should be assigned to each page rather than per website. In other words, there isn't actually a set minimum or limit for the number of keywords that make up a good website. Instead, concentrate on creating a variety of pages with distinct subjects and the appropriate quantity of keywords on each.
Focus on minimal competition and strong search traffic
You should try to decide which keywords need to be allocated to each page before calculating how many keywords per page you require. Low-competition, high-volume keywords are the solution to this problem.
There is a high search volume for you and your niche. The number of searches each month might range from 50 to 20,000. Don't worry about the specific figures; you should just use them as comparison measurements. You can compare the keywords and choose one or more to concentrate on. However, the majority of the time, highly competitive terms have substantial search traffic.
For each page, be sure to focus on a single major term. Yes, it is quite good to focus on three to five keywords on every page, but only use one as your major keyword.
The other keywords will be seen as supporting ones and combined they might aid to shape your content. You can use them, for instance, in the many parts that you might include on a page. However, the entire content should be optimized for one main keyword.
More search terms will appear in your ranking
A lot of those other keywords aside from the ones you're targeting will wind up ranking for the majority of your sites. That's beneficial since it encourages additional traffic.
The keyword you decide to concentrate on is often a more general term. It may be anything like "hats." If you focus on it, you'll discover that you'll rank for hundreds of other relevant SEO keyword phrases in addition to that one. Even while these phrases often receive fewer searches than the wider term, they are still useful. Simply concentrate on one big concept, and everything else will fall into place.
It is advised to avoid considering the requirement that you select just one term for your page to be restrictive. It only aids in choosing your area of attention. In other words, all the other variants won't truly be lost on you.
Do not involve yourself too much in tracking rank
As far as monitoring the ranking for your keywords is concerned, you shouldn't worry too much. Simply follow the principal keyword as a general direction while writing your content, and make sure to constantly concentrate on subjects that people are frequently searching for.
Although tracking a term is all but worthless, it's helpful to observe whether the keyword you choose is showing up high on the first page of SERPs. Search results are heavily influenced by factors like geography and personalization.
So, instead of concentrating on the keyword ranks, pay attention to the traffic your advertising is bringing in. Go to Google Analytics and select the Behaviour part to get an excellent picture of this. You're in excellent shape if you see that your content is receiving the appropriate number of views and that viewers are spending enough time on your landing page to click the CTAs.
Why focusing on fewer keywords per page is better?
Simplicity is key regarding the number of keywords to target on each page. As per keyword research services in India, here are several justifications for choosing one primary SEO term for each page.
Makes your approach targeted
It enables you to be completely focused on the subject at hand by just focusing on one keyword on every page. How would you format the material if you wanted to rank for 4–5 keywords on each page without confounding users and search engines? If you want to target more than one keyword per page, how will you construct title tags and Meta descriptions?
SEO may generate effective meta-tags and title tags for every unique page by focusing on a single keyword per one.
Lowers the danger of keyword dilution
One keyword per page also lessens the chance of keyword dilution. The potency of each individual term is diminished when more than one core keyword is targeted per page.
Consider a scenario where you own an online business offering women's apparel. The chances of a page ranking for both phrases are quite minimal if you were to target two primary keywords, such as "women's shoes" and "women's hats," on one page. As a result, the impact of the individual keywords is "diluted."
Employ the 'Trickle-down Effect'
When a page appears in search results for terms for which it hasn't been optimized, this is known as the trickle-down effect in SEO.
A page's high Google ranking indicates that the search engine believes it to be the most reliable source for the term that users are looking for. Therefore, Google is wise enough to understand that this website is the greatest source for the term "sunglasses for men" if it ranks for "men's sunglasses." Despite the differences between the two terms, they ultimately indicate the same thing.
How many keywords can a page rank for realistically?
According to the best digital marketing agency, a single page may be ranked for a huge variety of keywords. This means that you shouldn't deliberately strive to rank for hundreds of keywords. This happens because a single page may rank for several long-tail keywords as well as other terms that are closely linked to the primary subject.
This situation happens inadvertently when a page contains excellent material that is narrowly focused on one subject.
Can a page contain too many keywords?
How many keywords in SEO should you target on the homepage?
Absolutely, the answer to this query is yes!
Keyword stuffing is the practice of overusing the same terms on a page in an effort to manipulate a site's rankings, and Google doesn't appreciate it. Keyword stuffing was frequently employed to increase a page's chance of ranking when search engines weren't as smart as they are now.
However, these days, search engines can quickly detect keyword stuffing and punish a site for it.
Imagine finding a page that uses keyword stuffing:
"Visit our Men's Shirts Shop to get men's sunglasses. We provide all guys with the greatest shirts on the market. All of our men's shirts are imported from Italy, which is known as the world's fashion center. To purchase men's shirts, get in touch with us right now!"
In addition to hurting your website's rating, keyword stuffing has a negative impact on user experience and makes your content challenging to understand.
Are you also struggling to get an answer to the question -
How many keywords should I target on the homepage if I'm the owner or marketer of a company that sells a variety of goods across several categories?
You must attempt to target every keyword associated with your goods or services on the site, right? Not exactly, you should consider your homepage to be just like any other page on your website.
As a result, you shouldn't attempt to target separate keywords for each of your ten different goods or services. Instead, focus on the primary good or service your company provides and then optimize your site to target those keywords. Although we have other tools, like our keyword tool and an embeddable SEO audit tool, SEOptimer's homepage, for instance, is largely targeted towards the term "SEO audit."
How to Track Keyword Rankings?
Here are the best keyword research tools that you can employ for regular and systematic best keyword tracking:
You can set up keyword tracking for desktop and mobile, certain areas, several languages, and a tonne of other options using their power tool. Additionally, they save HTML copies of the SERPs for the terms you follow so you can see how your website and those of your rivals performed in Google search results.
It is a veritable Swiss army knife for digital marketers and is another one of our favorites. It refreshes daily with all of the keywords that your tracked sites rank for, so you don't need to specify which ones you want to actively follow. It's still tremendously thorough even if you can't monitor that ambitious term you've always wanted to rank for.
Search Console by Google:
Although this is a fantastic free choice, you get what you pay for. As one of the best keyword rank trackers, the usage of Search Console to determine the keywords you are already showing up for in Google searches. The site, however, simply displays your overall average rating for a certain term over time. This implies that your 28-day average ranking will be in the 70s if you spent weeks ranked 80th for a keyword before unexpectedly moving up to second.
What to watch for in Rank tracking?
You have chosen your selection tool, performed your keyword research, allocated terms to specific landing sites, and signed up for a monthly membership, then what next?
Should you worry about every ranking change, no matter how minor?
No! If all the keywords a single page ranks for drop 50 spots, should you be concerned? Well, Probably!
Setting up position change notifications is the simplest approach to remain on top of your rank adjustments and feel secure about your site(s). For instance, STAT enables you to design unique notifications depending on positional changes. The alert you are more likely to receive is "If the frequency of keywords in the top ten declines by 5%, the first-page result, and a second-page result differ significantly."
However, alarms won't catch everything. With SEO services in India, checking up on our customers' keyword ranks at least once a week, you can be sure that nothing has fallen off suddenly. Do not forget that unpredictability is to be expected, of course. It is because Google is so unpredictable, that you can notice a one-day boost in your ranks or a back-and-forth oscillation.
Wrapping Up!
As you now know, the length of the material will determine how many keywords you should aim for. It's best to concentrate on at least two to three keywords for each page and it can be five, six, or even more if your content is lengthier.
Look for the answers - what keywords to use, how to decide keywords for SEO, how many SEO keywords per page, and alike before beginning with any content.
You should be alright as long as the text continues to sound natural. Just keep in mind that in order to receive the most SEO benefit from your keywords, you should employ them appropriately across the page.