Cartoon cats and apes appear to be taking over the digital world. Do you want to know what it's all about? It's time to take a look at the rise of NFTs in marketing.
Before you ask,
"What the heck are NFTs?" and "What is NFT in digital marketing?"
You should know that crypto economies have been using these non-fungible tokens since 2017, when CryptoPunks launched the first of its kind digital art marketplace.
Marketers who are also fans of blockchain in digital marketing will be familiar with these digital assets, but they had little name recognition in the wider world at the time.
The market capitalization of NFTs was nearly tenfold between 2018 and 2020 — an extremely rapid increase. Every week, between 30,000 and 80,000 NFTs change hands, so it's a trend worth keeping an eye on.
Source: explodingtopics.com
But it wasn't until 2021 that NFTs and digital marketing truly made their mark on the global stage.
Christie's auction house sold a single NFT worth 69 million USD from artist Beeple in March 2021. It was the third most expensive living artist's work ever sold. Furthermore, NBA Top Shot is one of the most popular NFT series, allowing fans to "own" classic moments in basketball history.
As a result of examples like these, marketers quickly realize that NFT digital marketing is an effective tool for improving relationships with their audiences, increasing customer engagement, and raising brand awareness.
We'll go over what NFTs are and how marketers can use them in the following sections (with examples).
What is NFT in Digital Marketing?
Non-fungible tokens (also known as NFTs) are non-transferable chunks of data stored on a digital ledger.
NFTs are a type of crypto asset such as Bitcoin and Dogecoin that conveys a virtual value that you "own" and can sell or trade to others. So far, most NFT transactions have occurred on the Ethereum blockchain.
These "digital certificates" serve as proof of ownership for digital assets such as artwork, memes, GIFs, and even tweets!
Why Should Brand Marketers Care About NFTs?
NFTs in digital marketing are becoming more popular as NFT headlines have grown. For example, we recently learned that Jack Dorsey's first tweet sold for $2.9 million! Not to mention Chris Torres' sale of the Nyan Cat meme in February 2021 for $580,000.
According to Nonfungible.com - a market tracker, NFT sales in the first half of 2021 reached an impressive $2.5 billion.
One of the unique features of NFTs is their ability to represent items such as art, audio, and video. NFTs can represent a wide range of creative works, including virtual real estate, virtual worlds, digital artwork, fashion, etc.
Marketers can use these NFTs to create tokens tailored to specific audiences to target specific messages to specific groups.
Using NFT marketing to increase brand loyalty allows their followers to own unique, branded digital items — a sure way to cement a place in their fans' hearts. Essentially, hype gives NFTs value, and when there is a massive launch, the hype cycle becomes even more robust.
How Can Digital Marketing Service Providers in India Make Use of NFTs?
It's too early to tell how the NFT market will affect digital marketing and SEO companies— or any business for that matter. In contrast, early adopters and innovators are determined to make it work and be profitable.
With that in mind, here are a few ways that marketing firms can stay ahead of the curve and start using NFTs to better serve their clients:
Digital Contracts
An NFT is best described as a digital file representing ownership of a physical object or asset. Therefore, it stands to reason that one of the most effective ways for a digital agency to use an NFT is through agency agreements or contracts.
Using an NFT as the contract marker results in creating a digital asset that links the contract to the creator. This not only makes digital contracts more official but also demonstrates that the agency is at the forefront of cutting-edge technology.
Licenses or Retainer Tokens
NFT can serve as a license to do business with agencies that use retainer models. Seating licenses work similarly to an NFL stadium. An NFT allows a client to purchase the right to work with you.
The client must still pay for monthly services, but they will always own that right and can even sell it in the form of a referral. Even better, the sale of that retainer license can generate a profit.
The larger your brand, the more valuable that retainer NFT is.
Deliverables Proof
Of course, agencies can use an NFT to represent a finished video, set of files, or even a website that has been delivered to the client. This is an excellent way to officially mark a project as delivered and completed, mainly since it will be recorded in the blockchain in perpetuity.
Digital Assets for Sale
One of the most significant advantages of using NFTs is that they can be sold and transferred as digital art. Some artists even use blockchain and smart contracts to create artwork, allowing NFTs to function as an artistic medium.
Using the blockchain to buy and sell NFTs allows digital assets to be traded more efficiently.
Strategies for NFT Digital Marketing
NFT Listing in the Right Marketplaces
Listing your NFTs in the appropriate marketplace is one of the first and simplest strategies for selling them. List your NFT on the proper marketplace if you want people to buy it. Taco Bell, for example, has a well-known NFT project. Based on their brand, they created a series of NFT artworks. They were gone in under 30 minutes.
Host AMA Sessions
Regular AMA (Ask Me Anything) sessions are a great way to spread the word about your NFT project and target potential users with reasons why they should utilize your NFT project. Further, allow the AMA organizers to ask you the most current and pressing questions, to which you will respond thoroughly.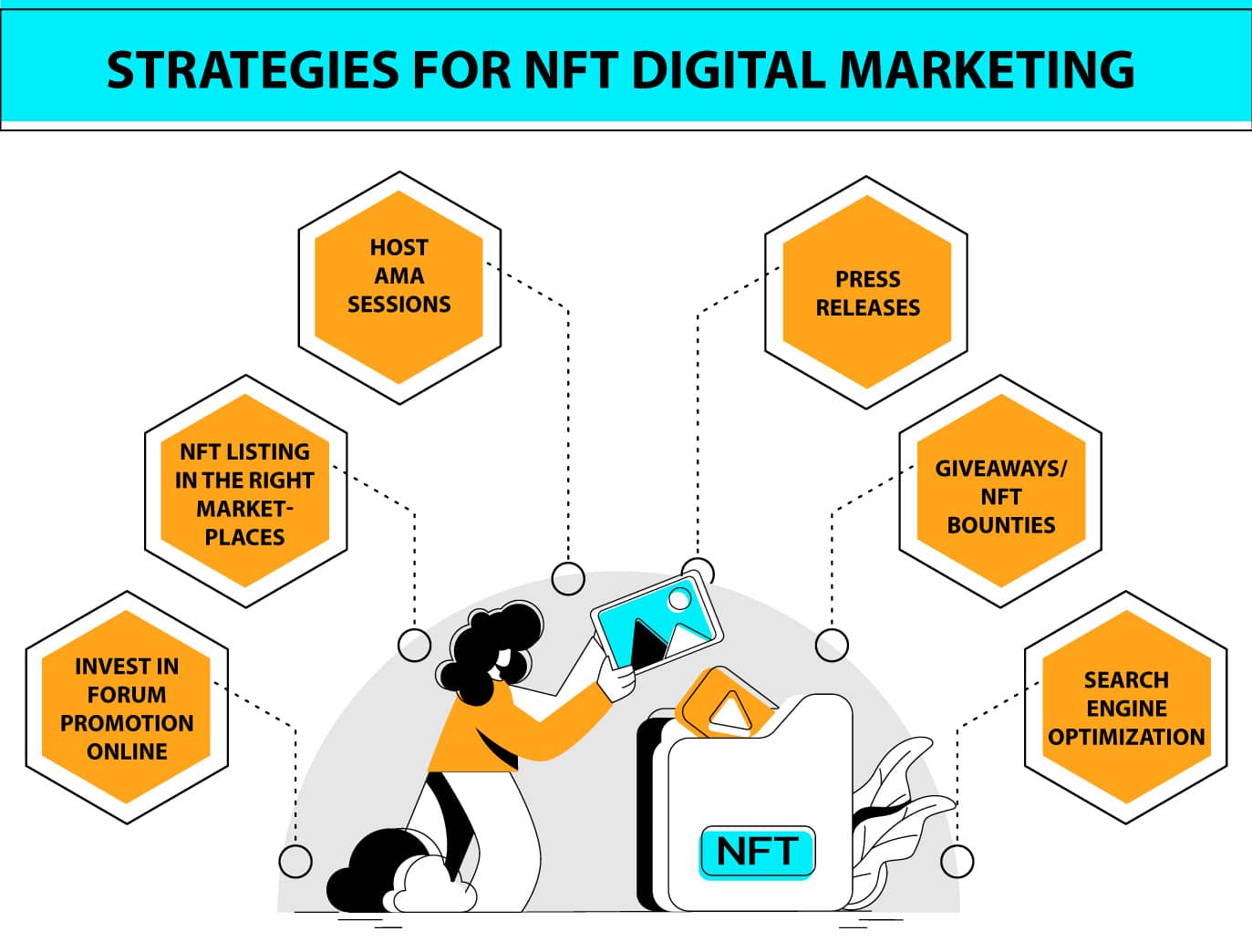 Invest in Forum Promotion Online
Participating in NFT discussions on various crypto forums, such as Reddit, Bitcointalk, Telegram, CryptoTalk, Discord, and Twitter, to raise positive awareness about your content. This also helps in highlighting the role of cryptocurrency in digital marketing. In fact, this NFT project marketing strategy provides you with free word-of-mouth promotion. It may also pique the interest of investors, who may begin purchasing your content or product as a result.
Press Releases
By posting press releases on various media channels and websites regularly, digital artists and graphic designers can increase their credibility. They can use this platform to spread the word about the advantages and values of purchasing their NFT. This is one of the oldest marketing strategies in existence, and there's a reason why people keep returning to it.
Giveaways/ NFT Bounties
You may sell NFT collectables as well as tangible pieces of your work. Artists frequently use this method to hold giveaways: anyone interested in participating must follow the celeb on Instagram/Twitter, tag one or more friends in the comments, and share the post on Instagram Stories or retweets, and so on. It increases interest in your NFT Collection, allowing you to please your fans while also being discovered by more people.
Search Engine Optimization
SEO services for NFT in digital marketing help you promote your NFT art and rank high or at the top in search engines such as Google and Bing. They will receive free traffic from their target audience. Hiring an NFT digital marketing firm can assist with both on-page and off-page optimization.
Future Trends in Digital Marketing for NFTs?
The future of NFTs in digital marketing is expected to be very prosperous. The use of NFTs in digital marketing will enable businesses to create, manage, and distribute one-of-a-kind and rare digital assets that one can use to engage and interact with customers. Traditional and blockchain-based NFTs differ in a few key ways. The most fundamental distinction is that they can be bought, sold, or traded on the market, making access to them more challenging to control.
NFTs can be created and sold on a variety of platforms. You can also make money by flipping NFTs.
Replication and manipulation of digital assets will be impossible with the implementation of blockchain technology. For example, a block of diamonds could be recorded on the blockchain with details about their unique characteristics, such as color and cut. In this case, each stone would be amazing, and the blockchain would be able to track its location at all times. This is one way for businesses to use blockchain technology to protect their assets, as the blockchain prohibits any modification or manipulation of these digital assets.
The applications for this technology are nearly limitless, ranging from the use of digital assets to protect intellectual property to the ability to create a digital trust fund for children and even digital voting in elections.
Finalizing the Marketing Efforts!
NFTs, give digital marketers a new way to reach out to their target audience, raise awareness, and even promote new product lines.
But are they here to stay? Or are they just a passing fad in marketing?
Time will only tell. We can tell that big brands are utilizing NFTs in novel ways, which is worth noting.
However, make sure that you make the most of SEO and content marketing before implementing new strategies. These tried-and-true strategies drive long-term growth, not just market attention. We can assist you with your digital marketing strategy or if you want to use digital marketing for NFTs or SEO services for startups.